"Don't let the density of Sao Paulo fool you."  I told myself in a blink as I stand by the sunset, viewed from the 360-degree-observation-deck, at the 46th floor of Edificio Italia, the third tallest structure in Sao Paulo. I was trying to convince myself that this metropolis has more than meets the eye.
From someone who's currently based in the most diverse, cosmopolitan and extremely future-forward city in the world, where Burj Khalifa and other architecturally impressive buildings are erected (where else but Dubai), I was still surprised and overwhelmed by Sao Paulo's hyperdense urban skyline.
It doesn't require higher intellect to understand that it's completely different from Rio de Janeiro, which is obviously a very relaxed Brazilian paradise, that's worthy of all the days in your vacation leave, all your superlatives and hallelujahs! Although it's a fact that Sao Paulo is the most populated city in Brasil, in the Americas, in the Western and Southern hemispheres, I still gave it a chance to make the tourist and traveler in me, happy!
But what will you do if you only have 36 hours to burn?
Here's my story.
7:40 AM, August 6th, 2015. Thursday. Rio de Janeiro. 
I jumped out of my bed literally, did my morning toilet rituals hurriedly (only brushed my teeth and washed my face without, ugh, shower!), and bid goodbye to my gracious and generous Lebanese-Brazilian AirBnB host at Ipanema quickly. Why the rush? I was running too late to catch my 9AM flight to Sao Paulo! (Disclaimer : I have never been tardy to any flights or to anything at all as my middle name is punctuality, until that morning in Brasil! I could partly blame, other than myself, the remarkable time-difference of South America, Middle East and Asia that led me to sleep at past 4 in the morning after I enjoyed chatting with my mom and my friends. Silly me!)
Considering the usual one-hour-distance-with-congested-roads from Ipanema to Galeão–Antonio Carlos Jobim International Airport, I made it in one piece at few minutes past 8AM and luckily, my 9AM local flight with Avianca Airlines was delayed to 9:30 in my favor. Applause, applause! Miracles do happen!
11:30AM, Hotel Unique, Sao Paulo.
The one hour local flight was uneventful. After I got my backpacks and trolley from the luggage-carousel at the Guarulhos International Airport, I took a taxi cab to Hotel Unique, my home for a night in Sao Paulo.
Check-in was a breeze. They waived the supposed charges for early-check in, and offered me champagne at the reception (actually, a choice between water and champagne, of course I opted for the latter!), and confirmed my 25% discount as a special media guest (Fact : I inquired  via email from their office in New York, and requested for a discounted rate that may be offered to, ehem *clears throat,*  Social Media Influencers).  Next thing I knew, I was ushered to my room.
Andre, Hotel Unique's Guest Services Manager was so friendly to send fresh coconut juice in its shell to my room and a welcome note.

It's called Hotel Unique because you get to experience how Hobbits sleep. Joke!


Fun fact : I didn't really sleep in this hobbit-window. 
Everything's a must-love in my room. From its almost immaculate and minimalist interiors, to its spic and span toilet, shower and jacuzzi, to the divine pairs of Haivanas flip flops as room-slippers that they suggested me to bring home (the one in box was for sale, while the two white pairs were for guests)- the stay provided me one of my restful sleeps in years!


Haivaianas! Welcome to Brasil, baby!


Too bad, the mini-bar ain't for free. Well, I can't have it all!


Bed and pillows were ultra-comfy; I must have been snoring in my sleep!


I can even sleep in the spotless toilet, I swear! And yes, there's no bathtub but a jacuzzi!


Probably, the reason why the jologs-in-me was in bliss. BVLGARI toiletries! Hallelujah!
2PM, Late lunch at Hotel Unique's Skye Restaurant and Bar
After much-needed-shower, I went up to the hotel's swimming pool and savoured my pre-reserved late lunch at Skye Restaurant and Bar.

A well-deserved meal finally!


Kobe Beef Carpaccio. Just wow!

Tasteful lunch and gorgeous view by the window. Hello, Sao Paulo!


Filet Mignon. Tender and delish. That's all you need to know.
4:30PM, same day, Avenida Paulista, Sao Paulo.
I was late (Didn't I tell you earlier my middle name's punctuality? Hahaha!) to meet one of my fellow Pinoy Travel Bloggers, Aleah of www.solitarywanderer.com who arrived in Sao Paulo the day I arrived in Rio de Janeiro. While I only had 36 hours in Sao Paulo and total of 16 days to spend and discover Brasil, Peru and Bolivia, Aleah planned to stay around South America for 2 years from August 2015! Anyway, allow me to be defensive why I was late in supposed to be locally-guided walking tour with Aleah and others – the traffic was horrendous! My taxi cab was stuck somewhere and the moment I reached the meeting place, the group with Aleah for the walking tour along Avenida Paulista were gone.
In order to maximise the remaining hours of the day (I decided to contact Aleah as soon as I get back to the hotel that night), I went my way to Edificio Italia via taxi cab and got to chase my very first sunset in Sao Paulo.
4:45 PM, At the 360-degree-Observation deck of Edificio Italia, 46th floor.
Months before my two-week-trip to Brasil, Peru and Bolivia, I read online that the best time to go up to the 360-degree-observation-deck at the 46th floor of Edificio Italia, is between 4PM-5PM. I was just in time after taking two different connecting lifts. What's best with this experience, ADMISSION IS FREE! I could not think of any reason not to go. It was a great introduction to Sao Paulo for me actually!

Just so you know, there's a lovely restaurant at the same level where you can dine and watch the glorious sunset however, it seemed expensive to me as it comes with the priceless view and extraordinary experience.
As I was taking photos of my traveling bear alter-ego (follow him on Instagram via @gelothebear), a young lad approached me to request if I could take his photo with his cellphone.  His name's Hansel, a 19 year-old Economics students from Lima, Peru who happens to be studying for a month at that time in Sao Paulo, Brasil.
To cut the short story shorter, hehehehe, Hansel and I became friends and walked our way around Sao Paulo. It was timely to meet him as I didn't prepare a concrete itinerary to Sao Paulo and Hansel knew much of the city after being there for few weeks already. He became my instant interpreter as he conversed in Portuguese with people in the streets from whom we asked directions to, and I took his photos, and he took mine with my Fuji XA2 (which by the way, reminds me that all photos on this South American Travel Blog Series were taken using that simple mirrorless-cam).
So from Edificio Italia, we didn't take a taxi cab but walked our way to downtown.
5:45PM, Teatro Municipal, Sao Paulo

Hansel, my Peruvian friend in front of the Sao Paulo Municipal Theater.


Spot me.
6PM, Catedral da Sé de São Paulo or the São Paulo See Metropolitan Cathedral
We prayed for a while inside the massive cathedral that was notably built in 1913 and was completed in 1967. Then you guessed it right, we continued walking; we trooped to Liberdade.
7PM, Liberdade (district of Sao Paulo).
Home to largest Japanese community outside Japan.
Japanese red lanterns lit the streets of Liberdade, and Japanese people were seen rushing home from a day's work; while Hansel and I hunted for an affordable and authentic Japanese eatery. We found one after walking for several minutes. We had freshest sushi for dinner! It was a great day one at Sao Paulo. Not bad at all!
7:30AM, August 7th, 2015, Friday. Breakfast at Skye Restaurant and Bar, Hotel Unique
You don't have any idea how I savoured such breakfast! As an Overseas Filipino Worker in Dubai, my meals are usually affected by my erratic working hours at work, as I work for 12 hours at night, and I usually sleep during the entire day. Frequently, I eat junk from fast-food, often rely on delivery or takeaway, and seldom find time to cook for myself. It's far from being healthy, I know! Hence, vacation like this gives me simple joys to dunk my fork onto the freshest slice of fruits and whatnot. Thank you, God for such blessings!
9:30AM, Ana Rosa Metro Station, Sao Paulo
Following my breakfast, I took a cab and went to the hostel where my friend, Hansel was staying. Waited for a bit at the reception area, then walked our way to  the nearby Ana Rosa Metro station.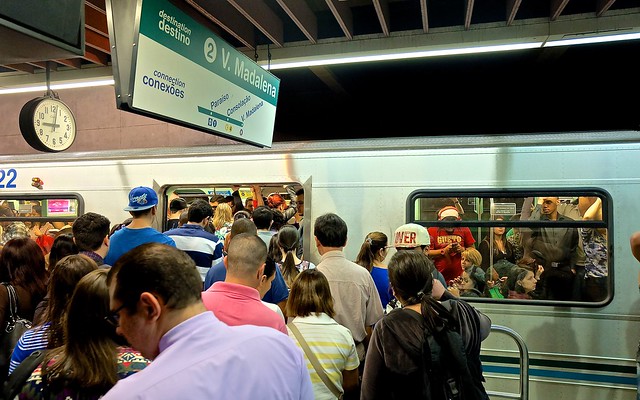 I thought this only happens back home in Manila.
The terrible expectation occurred. Hansel went inside the Metro first, then the volume of passengers flowed in spontaneously; his train left and I was left at the platform. Good thing, we agreed on our first destination that day. I knew where to alight.
11AM Museu de Arte de Sao Paulo (MASP)
Museu de Arte de Sao Paulo is just two train stations away from Ana Rosa. I took the next train and met Hansel at the MASP station. However, before we went inside the museum, we bask a bit in the sun at area where downtown can be seen and enjoyed.

MASP located at Av. Paulista, 1578, São Paulo – SP, 01310-200, Brazil, Opens 10AM-6PM.
On exhibit were paintings and few sculptures by French and few Italian masters. Below are my favourites.

Looking at one of my favourites from the exhibit. "O Artista-Retrato de Marcellin Desboutin" (The Artist-Portrait of Marcellin Desboutin), 1875, oil on canvas.

Cristo abencoador (The Blessing Christ), 1834, oil on canvas by Jean-Auguste-Dominique Ingres. That masterpiece depicting the Blessing Christ cracked me up! I perceived Jesus saying, Duh, whatevs! Probably, because of how the eyes and the hands were painted or perhaps, it's just me.

Cronos admoesta Eros na presenca de Venus e Marte (Mythological Scene, Chronos Admonishes Eros in presence of Venus and Mars), undated, oil in canvas.


Adoracao dos pastores (Adoration of the Shepherds), circa 1630-35, oil on canvans by Maestro dell'Annuncio ai Pastori.

The smile on the photo doesn't show the growling stomach aching for necessary lunch. Hahahaha! So we went to a nearby mall and ate baby back ribs and drank a bottle of beer! Saude!
1:30PM, Late lunch at a food court of a mall along Avenida Paulista

My Peruvian friend was too kind and thoughtful to wrap our leftovers and handed them personally to the homeless. God bless, Hansel! God bless!
3:30PM, Museu do Futebol
From Avenida Paulista, we took a cab to Football Museum in Sao Paulo. Apparently, Brazilians take football seriously more like their religion.
Meet @gelothebear, my alter-ego traveling bear! Follow his adventures on Instagram!
4:30PM, Sala Sao Paulo or The Júlio Prestes Cultural Center,
located in the Julio Prestes Train Station, is the home

  of Sao Paulo Symphony Orchestra.
We joined 40 students that late afternoon, and a professional tour guide who initially explained to us that she needed to speak in Portuguese for the group. Hansel speaks Portuguese, Spanish, French and English too, while I was content in listening to them and taking pictures. Hehehe!
7PM Parque Ibirapuera
Following our more than an hour stay inside Sala Sao Paulo, we took another taxi ride to Ibirapuera Park. It's a big park with beautiful lagoon with swans and lots of trees and bushes. The huge park is a great place to roller skates, bike, skateboard, jog, while away time or simply watch end enjoy the sunset, of which we were late to do so.
8:30PM, Bar do Biu, Pinheiros, Rua Cardeal, Arcoverde 772, Sao Paulo
I had to see my travel blogger-friend Aleah (Our first meet-up was in Singapore years ago when I was based in Malaysia – both of us were invited by Singapore Blog Awards), I had to catch up with her and apologize as I was late the day before due to traffic. So Hansel and I went to the bar that was agreed upon with Aleah early on. We were again late due to traffic. However, thankful because Aleah waited for us for almost an hour or probably more.

Aleah, yours truly and Hansel


Caipirinha. Remember the name if you haven't heard of it yet. CAIPIRINHA. Brazil's national cocktail made with cachaca (sugar cane hard liquor; really it's so intoxicating! Aleah and me got intoxicated early, while Hansel only drank orange juice), sugar and lime. The breaded chicken-leg-shaped fried dough with chopped and shredded chicken meat filling is called Coxinha, a famous Brazilian food. At least I didn't leave Sao Paulo without meeting Aleah, and without sampling local dishes! For that, I'm truly thankful!

12:05 AM, midnight the following day, Guarulhos International Airport
I left Sao Paulo after 36 hours, gained a new friend and had a catch up with an old but good one. Gladly, I was not late at the airport and boarded TAM Airlines for an hour flight to Iguazu, Brasil.
This South American Travel Blog Series includes :
and so much more to follow. Please stay tuned for stories and photos from Peru and Bolivia!